Buying Prices of Gold and Platinum
2019年2月18日(月曜日)更新
Today's buying prices of gold and platinum
* The following prices apply to a minimum of 0.1 g. When the total weight of each purity grade is 30 g or more, the prices on the right apply. (The digits of ten yen and lower are round down.) Charges for the service and appraisal are free!
Buying Prices of Gold
■国内買取価格
K24インゴット 5008 円/1g(金曜日比+31円)
K24

インゴット・コイン

4980円

/1g

4990円

/30g以上

K24(24金・純金)
ネックレス・指輪・小判等
4880円

/1g

4890円

/30g以上

K22

(22金・916・千足・足金)

4380円

/1g

4410円

/30g以上

K21.6

(21.6金・900等)

4310円

/1g

4360円

/30g以上

K20

(20金・835)

3980円

/1g

4010円

/30g以上

K18

(18金・750 YG/PG等)

3730円

/1g

3750円

/30g以上

K14

(14金・585)

2680円

/1g

K10

(10金・417)

1800円

/1g

K9

(9金・375・PWG9等)

1630円

/1g
Buying Prices of Platinum
■国内買取価格
PT1000インゴット 3021 円/1g(金曜日比+20円)
Pt1000

インゴット・コイン

3010円

/1g

3010円

/30g以上

Pt1000(白金)
ネックレス・指輪・小判等
2950円

/1g

2950円

/30g以上

Pt950
2760円

/1g

2780円

/30g以上

Pt900 ( Pm900 )
2690円

/1g

2710円

/30g以上

Pt850 ( Pm850 )
2540円

/1g

2560円

/30g以上
SV1000
40円

/1g

SV925
35円

/1g
* The buying prices change every day. The prices shown above are only valid today. The buying prices of the day are updated at around 10:00 AM.
Please note if the market prices change within a day, the buying prices shown above may also change during business hours.
Pawnshop HAYASHIYA, Ota City, Gunma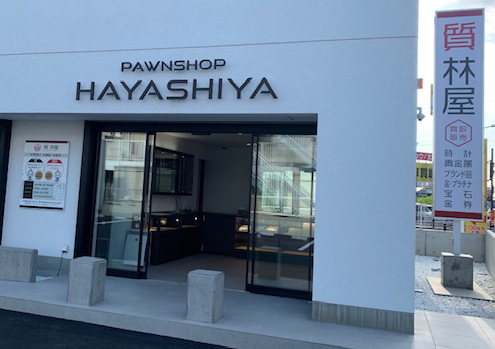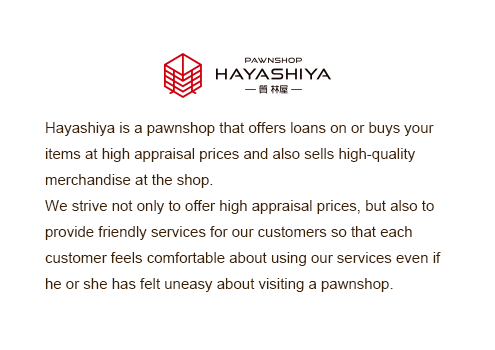 Pawnshop Hayashiya in Ota City, Gunma
Ever since the establishment of our pawnshop, we have been always thinking about each customer's interest and valuing their perspectives, and trying to win trust as a reliable community-based pawnshop. And today, we have earned trust from many of our customers.
Pawnshop Hayashiya has served many customers from Ota City and Gunma area, as well as the neighboring areas in Tochigi and Saitama Prefectures.
Our appraisal prices of gold and platinum are at the top level in the North Kanto Area, and appraisal prices of brand-name products and other items are also at the top level in Gunma area. Because of this, many customers have used our pawn loan service and sold their items to our shop.
We are particularly confident about our appraisal prices of brand-name watches, bags, jewelries, precious metals (gold, platinum) and diamonds, and focusing on buying these items. Some of our customers have visited us all the way from distant areas, and many customers have visited us by word of mouth and used our services repeatedly.
We also offer high appraisal prices for various other items, such as electronics, cameras, gift certificates, etc.
And since it is the main function of pawnshops, Hayashiya offers pawn loan services, and we also sell high-quality used items, such as brand-name watches, bags, precious metals (gold, platinum), etc. at our shop. These items are selected with the trained eyes of professional pawnbrokers.
You might feel hesitant to visit a luxury-looking boutique-style pawnshop or feel reluctant to visit a pawnshop with a dark atmosphere. At Pawnshop Hayashiya, we create a friendly atmosphere for our customers to feel at ease in our pawnshop.
For people who have never visit a pawnshop, especially women, you are always welcome at Pawnshop Hayashiya. We are looking forward to serving you.


Higashihoncho 5-22, Ota City, Gunma, 373-0026